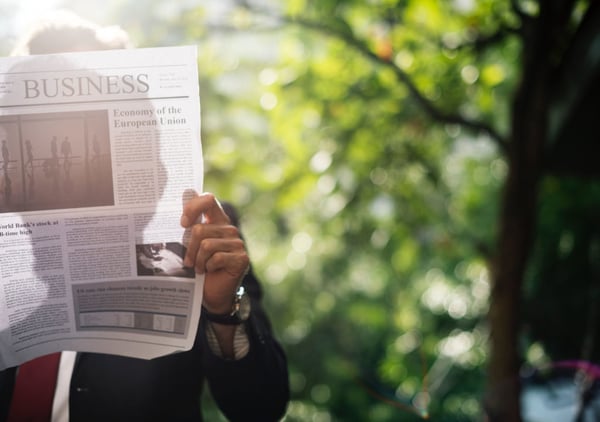 For most startups, their marketing strategy includes only online activities such as lead generation, social media, email marketing, content marketing, pay-per-click, and their website.
While this is all vital to your overall marketing plan, there are other avenues available to you depending on your target market.
In this article, we look at traditional marketing tools often overlooked by startups that include strategies and methods for introducing your business to the world.
Direct Mail
For several years, marketers declared direct mail dead. Why? Simply because there was so much of it, and the message was getting lost as consumers repeatedly tossed their mailers.
Yet, for most people, their outdoor mailboxes are significantly lighter than in year's past, and direct mail is once again on the to-do list of traditional marketing.
Direct mail is definitely an overlooked traditional marketing tool, and one that can work for you.
The key to direct mail is repetition. You want to hit your target audience two to four times to make the message stick.
It's definitely worth adding to your overall marketing plan.
Marketing Events
When we think of event marketing, this can include local event sponsorships, trade-shows, and events at your place of business.
This traditional form of marketing works well for startups with a local market.
When you advertise marketing events, you can utilize the digital arena to get the word out. Utilize your website, email and social media.
One tip for marketing events is to be active in your marketing. Make sure you collect attendees' contact information so you can continue to market to them in the future.
You can do this easily by offering an enticing drawing or give-away at your marketing events as this ensures the most sign-ups.
Printed Advertisements
If you have a local business, traditional marketing in the form of posters, banners, window signage, employee uniforms, thank-you gifts, packaging and more is a must on your marketing list.
Printed advertisements like these stick around in people's homes reminding them of you and your products or services.
Radio and Television
These are two traditional marketing tools that are getting overlooked more and more by startups.
While advertising on your local television or radio station may not be cost-effective for your startup, there are ways you can leverage these mediums.
Run shorter 15-second television commercials.
Advertise on Pandora or Spotify.
Partner with another local business to cut costs.
If you are a national startup, consider advertising on national cable.
Think outside the box to make radio and TV work for you.
Vehicle Wraps
While these can be costly, if you have a local business that needs to drive around a lot, you want to wrap your vehicles.
This is priceless advertising as you drive through town. Think of the number of eyeballs who'll see your cars or vans drive by.
Make sure that your graphics are easily readable from a distance. Use simple graphics that make an impact.
Press Releases
Don't forget about this traditional marketing tool.
It's especially important for the startup because it gets your business in front of the information-movers.
Before crafting your press release, take these general rules into consideration:
Have something important to say.
Tailor your news release to describe how your startup benefits the community.
Share any obstacles to your past or problems launching your startup. Look for an unusual, feel-good story.
Find an angle. This is the hook that draws the media in.
Final Thoughts
Whether you're adding one or two of the traditional marketing tools that are often overlooked by startups, or you're concentrating solely on digital avenues, the key is to make a plan and stick with it.
The other thing to consider is your audience. Before deciding to go all digital, spend some time studying your target audience. Ask yourself if a traditional method would reach them better.
Or, consider a two-pronged approach that includes a bit of traditional marketing with some digital spend as well.
Finally, as with all marketing, test, revise, and test again. This is the best way to fine-tune your strategy and make sure you're making the most of your marketing dollars.
Are you a new startup ready to succeed? Do you want to get your new business off the ground and watch it rise to success? We are here for you. We can help answer your questions and guide you through the process. Outsource your HR duties, finances, payroll and more to us. Contact Escalon today to get started.
Image: rawpixel.com on Unsplash